By Scrapabill Team
19 July 2021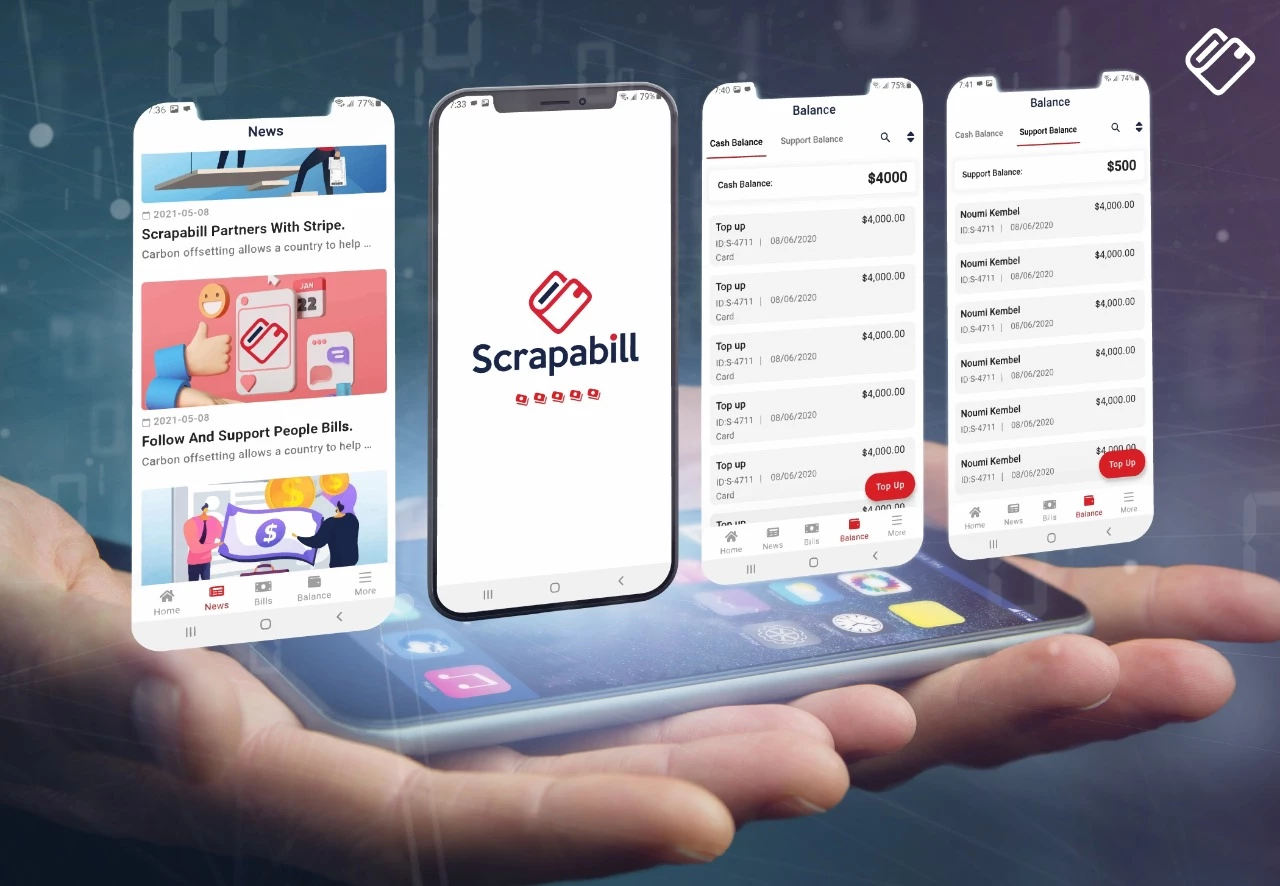 Scrapabill Developers Is Developing Its Modern Mobile App
We are excited to announce that Scrapabill developers are developing our first Mobile App for our website scrapabill.com! We've been working on the design over the past few months and now have a tentative release date for early fall 2021. In this blog post, we will share some more details about what's in store for you in the next version of Scrapabill.
But first, let see what we have been working on
From the beginning, Scrapabill was only available in the form of a Web Application. But since everyone is leaning towards smartphones more and more, causing the web browser to become insignificant for many users. We have been thinking about that, and now we're working hard on making Scrapabill available on mobile devices. It will be available on both Android and iOS.
What is Scrapabill?
Scrapabill is a social networking platform that helps you get cash support to pay your bills and manage your money from the comfort of your home. It enables you to enter and post them (bills) one after the other and helps you record your expenses. You can check and track your cash and support balance, tell financial stories to let friends and family members connect directly with your bills and money support account. We believe that today's users have more power than ever before over their financial well-being. They don't need to borrow money unnecessarily and can manage it better for going forward. With Scrapabill, you have a place to not only track all cash support to pay bills and manage your spending today – but also plan your expenditure.
Scrapabill also allows you to connect with your family and friends. You can share your goals and discuss how to set them up in a way that works for you. You can also collaborate with your loved ones to see who is paying their bills, so there are no more late fees from friends or family members. You can help each other pay off loans, credit cards, car payments, and all kinds of debt you may be carrying. There are many possibilities that Scrapabill can provide to the community by connecting family and friends together.
What's in the Scrapabill Mobile App?
The Mobile App will bring many of the same great features available on the Web application at Scrapabill.com, with some exciting new additions. We'll be able to add more frequently asked-for features that were not possible in the website-only version. For example, users will be able to Scrap bills quickly while on the road and take snapshots to get fast cash support.
We'll have a section on the Mobile App where you can check when the posted bill is due and view your cash top-up, and support payment history.
We'll also feature a section on the Mobile App where you can set financial goals, receive notifications from friends and families. You will be able to outline the total amount of bills you would like to scrap every month.
And if you are worried about privacy issues, don't worry! All your data will be 100% private – it will never get shared anywhere on the internet (you can also set your goals as secret if you want to keep them confidential from anyone else).
We'll also build in a new section where you can view the status of any payments or transfers. This way, you'll always be able to confirm that your friends and family members have received the money you've sent!
What's Next?
Our goal is to have the Mobile App out as soon as possible. We'll continue to post updates on our blog and social media pages with more details about the Mobile App's upcoming features. For now, sit back and enjoy the Web Application at Scrapabill.com – knowing that you'll soon have the power to pay your bills and manage your money from anywhere you want!
Conclusion
We are excited to announce that we have been developing the Scrapabill Mobile App for all our users. It will be available soon at Google Play and Apple Store for downloads, and we are looking forward to sharing it with you all soon!
To register and create your account on Scrapabill, click Here.